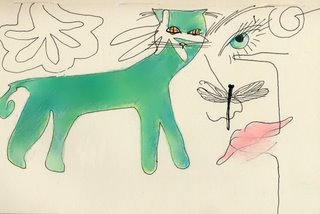 When I was growing up my teacher told me that animals don't have souls. I don't know whether they were right or wrong - but lingering in my soul are special memories of both my dog Ted and my cat Ginger.
Ted was a white ball of fluff that wiggled from head to tail when he was happy and that was most of the time. He weighed about 15 pounds and looked like a downed rat after his bath until he was fluffy and dry again. He was charming and well behaved - a delightful companion on walks and a special connoisseur of art - he loved the art galleries although his charm frequently distracted other patrons. He was fiercely brave didn't think twice about defending against three full grown German Shepherds, after one bout we rushed out to retrieve his body and to our amazement he was only momentarily stunned.
My dog Ted who could on occasion be very insightful and wise - disliked my ex on sight. Although I don't remember my little dog disliking anyone else - he proved that he was smarter than I.
Ginger was a purebred cream-colored Persian - an aristocrat of Persians, whose pedigree included cats that had won both kitten of the year and cat of the year national awards. She had a most wonderful personality - far superior to that of any other cat I've ever owned. I bought her for myself with money I received from an insurance settlement, and what a reward I gained from that settlement! Any time night or day, her purr was always switched on. When I was busy she would rest at my feet, when I got tired she would sit me down climb up into my lap and talk to me. At night she slept on my shoulder. I was devastated when she died. Around the time of her death my marriage dissolved - and one of the more unforgivable things my ex did when he decided to divorce me was to give away her kittens.
This morning I felt a cat walking across my bed and curling up beside my shoulder --- when I turned my head and opened my eyes to pet her --- no one was there.
more pet stories at
http://sundayscribblings.blogspot.com/